Socrates, My Cat, My Friend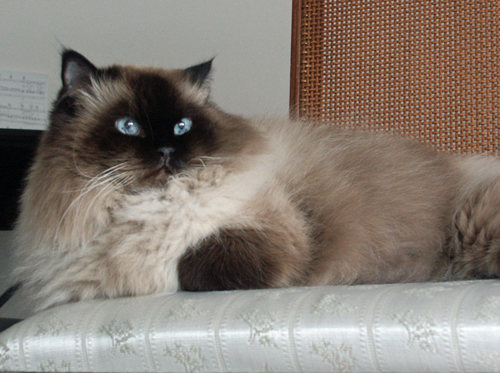 This is my cat Socrates. How he came into my life in yet another story.
I had just returned from my second tour in the Philippines and I was hanging out at a mall in Omaha, Nebraska. The pet store caught my eye, and I was compelled to go in and look.
There, near the front of the store, was a stack of cages with kittens inside. They were all pretty playful, and I stayed there for a while playing with them. On top of the stack of cages was a sign that said "Patio Kittens, $19.95". In the top cage was a couple of white fluffy kittens with big blue eyes. They were very friendly and kept drawing me in to play some more.
On one of my last trips into the pet store, I happened to ask the store keeper, "Hey, what's a patio kitten?" Well, he looked at me, and noticed that I was playing with the white ball of fluff and said, "Well, that isn't one. That's a Himalayan." Well, excuse me. I asked him what the difference was and he told me. "About 200 dollars!" Well, I made the snide remark of "I bet you don't sell many cats at that price!"
Later that day, I wrote the man a check and walked out with Socrates. I guess I was wrong.
5/1/2007: Today was truly a sad day in my life. Today I said goodbye to my friend of 18 years. He had been with me through hard times and good times and was always there to cheer me up with a purr and snuggle. At 18, I am told that he lived a full life. I am truly thankful for the last few years because by all rights he should have died after one of his lungs collapsed, but he wasn't ready to leave me yet. The doctor's were all amazed at how well he had been able to cope with only one lung, especially given his age. Every time we went in for a check-up the doctor would talk about what good health he was in. Sadly, time catches up to us all and his body just wore out. Finally, it was his heart that had given out so much love that simply could not keep up. Socrates passed peacefully in our arms at around 6:40pm this evening. I don't know how long it will take me to get used to his absence, but I do know that there is a spot that will never be able to be filled by another.
Good bye Socrates, We love you!