Mystery Cat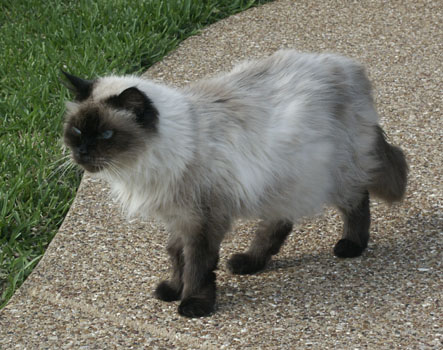 Well, it was bound to happen sooner or later. We now have a cat named "Mystery". Here's the story...
Karen and I have been talking for a while now about what to do because Phoenix is getting on in years and the Vet keeps telling us that she just doesn't have much time left. Yeah, right. He's been telling us this for a year now. Anyway, we figure that when she goes, Socrates will be very lonely because he's never been alone. I've always had other animals around since I've had him. The problem was, we figured a cat would be best because of our schedules, but at the same time, we didn't want a kitten because 1. Socrates probably couldn't keep up with one, and 2. we don't want them to have a major difference in "departure time" if you know what I mean. That could end up in a continuous cycle.
So, one weekend in January 2004 we're at the Vet for the yearly checkup and they happen to mention that they have an older cat in the back that they are having problems adopting out because of his age. Most people want kittens. Karen and I just looked at each other and said that we had been thinking about adopting an older cat, which of course they jumped on and said, "Would you like me to bring the little fellow in and let you meet him?" Well, when they brought him in we saw right away that he could almost be Socrates' brother. He's quite a bit thinner, but he's the same color and has the same markings. They told us that the Animal Control guy had brought him in after a tussle with a dog. All attempts to find the owner fell flat and time was running out. Well, we didn't want to make any rash decisions so we said we'd think about it. That was Saturday.
Come Monday, we called and make an appointment for Tuesday to go and pick him up. The Vet mentioned that he had taken the cat to his parents house, but that they have several cats already and didn't want another one (they live on a farm). He said that this cat spent most of his time keeping a low profile around the other cats. He's dirty and has knots all over him, much like Phoenix did when I got her.
The cat was apparently well taken care of at one time. He was de-clawed in the front and neutered. I could tell when I was combing him that he was used to being groomed at one point in time as well. He liked being combed, until I started hitting the knots around his back hips. We think he may have arthritis.
So, as for the name, I thought up all the "fancy" names. My first choice was "Plato" to go with "Socrates" but Karen was afraid people would think we were calling him Play-Dough. So that got nixed. Next up was Aristotle, Michelangelo, Sophoclees (sp?) and a few others. I said that had the cat been a girl I would have gone with Selina Kyle. :) Then Karen decides that since we have no idea of where he came form, or what his history was, we should name him "Mystery". It's been a week. Mystery it is.
I present to you... Mystery, the Cat!
8/2/2005: Today we noticed that Mystery was being very slow to move about and that his appetite just hasn't been right lately. We took him to the doctor so they could fix him. The first shock was that he had lost 2 lbs since the last time he was in. That took him down to almost 5lbs. After a quick blood test, it was determined that Mystery was in kidney failure and there was nothing they could do for him. Needless to say, we were stunned. We immediately began talking about our options. We just weren't ready to loose this little boy who had stolen our hearts a mere year and a half ago. The more we discussed the daily needles and bags of fluid that would be required to simply keep him going for a couple of months at the most, we came to the realization that it would be best for Mystery if we let him go. The rest of the evening was spent in a state of mental shock. We just can't believe that he is gone. While we knew all along that he had some health problems, we certainly were not ready for this. Not now. It was a very hard decision but we felt it the right thing to do. We will miss you Mystery. You came into our lives and helped us through our time of missing Phoenix, only to leave us yourself and leave another hole. We will always cherish the time we had with you and hope that your life was a little richer for the time you spent with us. We know ours was because of you. Good-bye Mystery. We'll see you in heaven. Say hello to Phoenix for us.